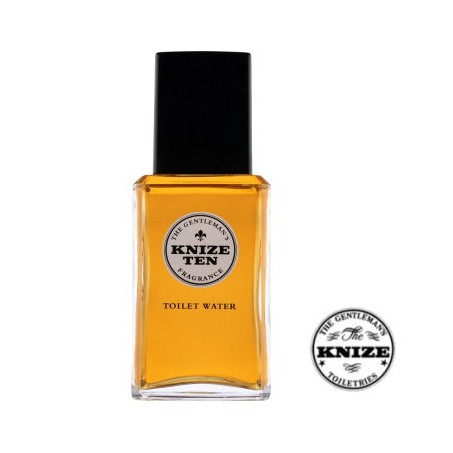  
Knize Ten Toilet Water venne creata nel 1924 e rappresenta uno dei migliori esempi di fragranza cuoiata tabaccata.
Un profumo straordinario, coraggioso ed innovativo per gli anni in cui fu creato. Intenso, pieno di carattere e nobilmente raffinato, riscontra oggi un'immutata ammirazione per la sua sorprendente personalità.
Rappresentazione della massima eleganza, il suo packaging, innovativo e coraggioso, resta oggi come allora di una sorprendente modernità ed eleganza. Nel libro The Best of the Best pubblicato da Econ nel 1989, Knize Ten è selezionato come la migliore fragranza per Uomo.
Estimatori di Knize si annoverano tra aristocratici, politici, artisti e uomini d'affari.
Nota di testa: Geranio, Rosmarino, Bergamotto, Arancia, Petitgrain e Limone
Nota di cuore: Garofano, Patchouli, Sandalo, Iris, Tintura di Rosa, Cedro della Virginia, Cannella e Fiore d'Arancio
Nota di fondo: Note Cuoiate, Note Animali, Ambra, Muschio e Vaniglia

Confezione: 225 ml splash